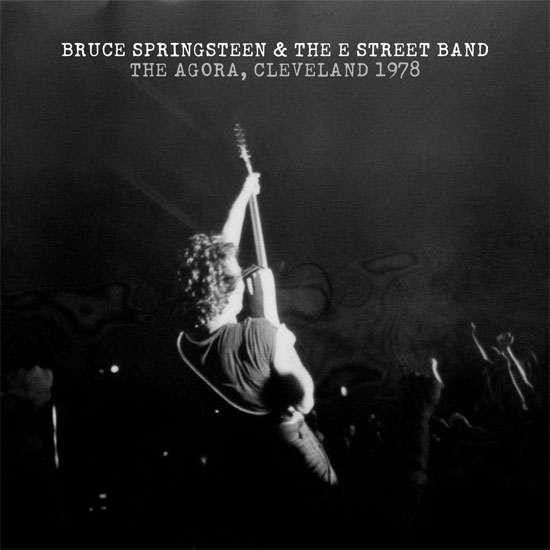 NEW ARCHIVAL RELEASE: "AN EVENING OF INTIMACY"
Cleveland 8/9/78 comes out of the vault and into your computer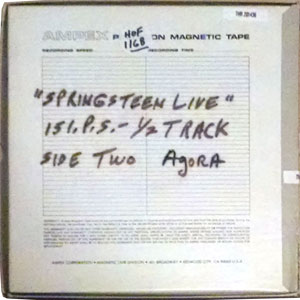 After kicking off in the not-so-recent-past with the 2012 Apollo show, one month later the archival side of Springsteen's live downloads series jumps right into the sweet spot of the vault with its second release: The Agora, Cleveland, Ohio, August 9, 1978.
One of five radio broadcasts on the Darkness tour, the Agora, as it has come to be known, is a performance held in extraordinarily high esteem by fans who have relived it for decades through the magic of bootlegging on titles like Summertime Bruce, Agora Night and Just in Time for Summer.
But none of those titles had the benefit of being sourced from seven 15-IPS (inches per second), half-track, mixdown reel to reels, newly transferred using the same Plangent process used for the recently released Album Collection box set. The new release promises unprecedented quality from an old familiar friend.
Brad Serling, founder and CEO of Nugs.net, which handles the live series, tells Backstreets, "It's so exciting to be a part of this — I feel like we're unearthing a piece of rock 'n' roll history, to do this and not put out just another copy of something that people have had on bootleg for years."
The show itself was a special stop on the Darkness tour to celebrate the 10th anniversary of WMMS, home to one of Springsteen's biggest and most influential radio supporters, Kid Leo. As Brucebase notes, Kid Leo memorably introduced the band to the stage to kick off the broadcast that also reached listeners via FM stations in other Midwest cities: "Good evening and welcome to the WMMS 10th anniversary concert. I'm Kid Leo, and I have the duty and the pleasure of welcoming, ladies and gentlemen, the main event. Round for round, pound for pound, there ain't no finer band around: Bruce Springsteen and the E Street Band!"
The set is a stone-cold Darkness tour classic, kicking off appropriately with a cover of Eddie Cochran's "Summertime Blues" and moving through what might best be described as a core setlist for this portion of the tour (including the soon-to-be-dropped "Paradise By The C" to start the second set), augmented by the then-unreleased "Sherry Darling" (another nod to summer) and the set-closing "Twist and Shout."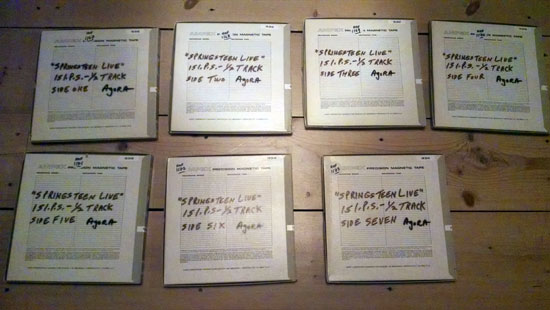 As for the tapes themselves, it took a bit of digging to find the best source. "Initially, what Toby found in the Thrill Hill archives was not a great-sounding transfer of the reels that they'd had," Serling explains. "So they asked Sirius, and Sirius pulled out their copy — which apparently sounded better than what Toby had from the initial transfer. That's what was originally slated for release, and even sent off to Gateway to be mastered. Meanwhile, Toby still wanted to find the original reels and see if he could make a better transfer. I happened to call him while he was working on this — I voiced concern about putting out a bootleg that people had already heard if it wasn't the best existing sound. He said, 'Well, it does sound better than the last transfer, but I think we can do better.'
"Serendipitously, Toby found a box of seven reels that been on display at the Rock and Roll Hall of Fame," continues Serling, "and that was it. The reels — the pre-FM, stereo mix of this show — had gone missing, and it turns out they were in this box that was on loan to the Rock Hall. And Toby had managed to find it just in time."
Sent over to Plangent for a fresh transfer, the Agora audio was pitch-corrected and adjusted for wow-and-flutter as it was extracted from the master reels, "brought back to as sonically perfect as the tapes could be," Serling says. "It sounded way better than Toby's original transfer, and better than the Sirius bootleg. So we managed to push it through."
The provenance of the reels is still not entirely clear to Scott or to Serling. They are unlikely to be the "Hank LoConti tapes," named for the Agora's founder who died earlier this year; a few years back, Cleveland press reported he had hoped to take the 24-track recording he made of the show and get permission to release it to benefit the Western Reserve Historical Society. "What we do know," Serling says, "is that there is no other stereo mix of this tape in the Thrill Hill archives."
We would suspect these seven tapes are the mixed-down and mastered reels from which copies of the show were made by Columbia to service other select radio stations when demand for live Springsteen was raging in the late '78 and early '79. Some have speculated the Agora was considered for a possible 1979 official live album, and though there isn't enough evidence to conclusively state that, Serling does note, "That's what's interesting — that could be what this stereo mix is! The boxes say 'Springsteen Live,' as if it were a live album. The sleuth work involved here has been really exciting, trying to look under every rock and see what's there. And this is the best possible version of the show we could have in our hands right now."
In addition to CD and standard digital files, the Agora will also be available in the highest-existing High Definition: "We're really psyched to come out of the gate with our first deep archive release and put it out at 24-bit/192KHz," says Sterling.
The same Plain-Dealer story about LoConti's tapes offers some heady endorsements of the show: "Former WMMS programmer John Gorman recalls in his book The Buzzard that Bob Seger told him he recorded it off the radio in Detroit, calling it 'the greatest rock 'n' roll show I ever heard,' and drummer Max Weinberg called it the best show the E Street Band ever did."
Thanks to Backstreets.com for this incredible news for Springsteen fans.
- December 23, 2014 – Erik Flannigan and Christopher Phillips reporting
Limited edition Bruce Springsteen book, The Light in Darkness.
IF you have ever considered buying this book, Now is the time.
The book focuses on Darkness on the Edge of Town, Bruce's iconic 4th album
and 1978 tour. Jam packed with over 100 fan stories and 200 original classic
photos from the 1978 tour, including a full 16 pages dedicated to the 1978 Cleveland Agora concert, this book is a must have.
With less than 90 copies left, now is the time to order this collectable book.
And to sweeten the offer, we are now offering Free Shipping anywhere in the
world until February 5, 2015!
Save Now- Order Here: The Light in Darkness