There is little doubt that Bruce Springsteen is considered to be one of, if not the greatest live performers in Rock n' Roll. His concerts are considered legendary as his performances at times top out at over 4 hours and 40 songs. His musical catalog consists of over 250 songs and 40 album and DVD sets.
For years fans have often debated which Springsteen concert was the greatest of them all.
Having re-creating 8 historic Springsteen concerts including the legendary Capitol Theatre and Winterland shows, Tramps Like Us, The #1 Springsteen Tribute Band in the world, has consulted with a panel of Bruce experts to create what they would consider to be the greatest Springsteen concert NEVER played!
This distinguished panel consists of:
Mike Appel – Former Springsteen manager & producer, who attended every show from 1971-1975.
Stan Goldstein – Springsteen blogger for NJ.com and co author of the book Rock & Roll Tour of the Jersey Shore and considered among many as one of the biggest experts on The Boss.
Lawrence Kirsch – Author of 2 best selling Springsteen books "For You" and "The Light in Darkness"
Thomas Wilkinson – Former program director for SiriusXM's E Street Radio.
Mark Salore – Front man of  Tramps Like Us – the world's most revered Bruce Springsteen Tribute band, has performed over 2,000 concerts since forming the band in 1989.
Combined, this panel has attended well over 1,000 Springsteen concerts.
After much deliberation, these aficionados have come up with the ultimate set list which includes rarely performed songs, outtakes, epics and of course the classics!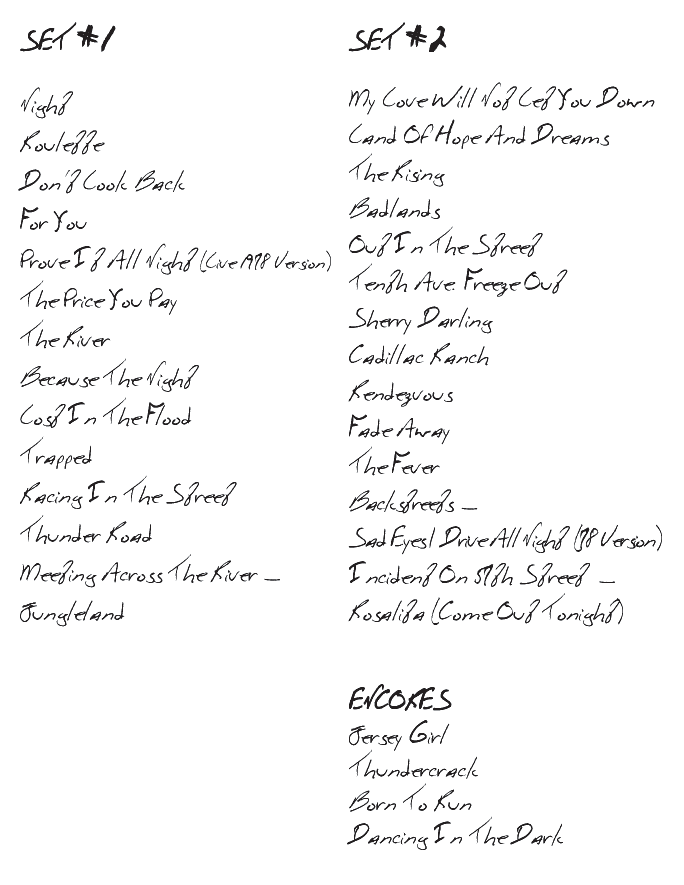 (Set list subject to changes)
---
About Tramps Like Us: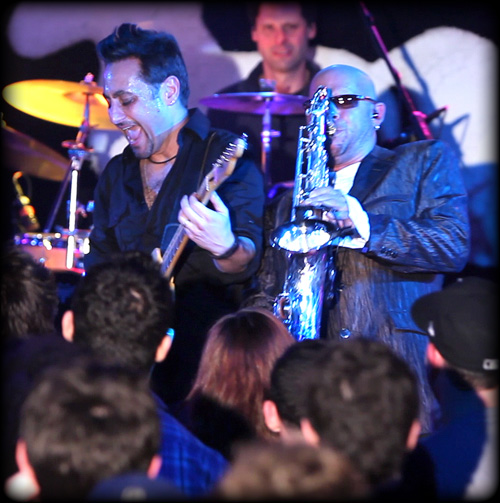 "If you're a big Bruce fan, you've probably seen tribute bands…
and the BEST of them all is TRAMPS LIKE US"
- E Street Radio / SIRIUS XM
Tramps Like Us brings more than 2 decades of road-tested musicianship that have won this band the hard-earned distinction of the planet's most revered Bruce Springsteen Tribute band. Rockers and ballads delivered with the raw intensity and swagger reminiscent of the Boss himself.With a repertoire of more than 120 songs, Tramps Like Us has been dedicated to enjoying and sharing Bruce's music in a live setting. Unlike other "tribute" bands who attempt to impersonate or emulate their source in every respect, from looks to clothing to gestures, Tramps Like Us concentrates on the music itself. The group captures the Springsteen sound, and the true spirit and energy of the songs, as well as to delivering them with the passion and conviction of the Boss.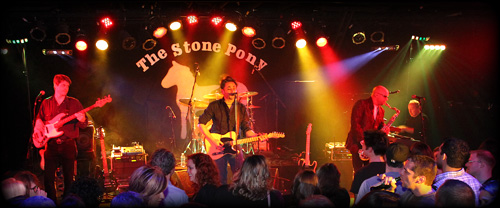 In keeping with the tradition of a typical Springsteen concert, Tramps prides itself on long and intense concerts, often playing 3.5 to 4 hour shows and at times without a break. Tramps has been able to cover up to 38 songs on any given night
"For almost 3 and a half hours, like a Springsteen concert from years ago, some of the Boss's best was delivered with raw energy and exceptional talent – The 3rd song of the evening was a version of Radio Nowhere that was so good if you closed your eyes you would have thought Bruce himself was in Phoenixville."
– Phoenixville News MORE ON TRAMPS LIKE US HERE
---
MEMORIAL DAY WEEKEND AT THE JERSEY SHORE
Friday, May 24th, 7:30pm

THE STONE PONY
913 Ocean Ave., Asbury Park, NJ – (732) 502-0600
TICKETS AVAILABLE HERE
All ages – 21 and over to drink

Discover the limited edition Bruce Springsteen book, The Light in Darkness.
The Light In Darkness is a collector's edition, we are almost sold out. Less than 200 copies remain. A great companion piece to The Promise box set, it focuses on the 1978 Darkness on The Edge of Town album and tour. Read about the iconic concerts from fans who were there – the Agora, Winterland, Roxy, MSG, Capitol Theatre, Boston Music Hall, The Spectrum and over seventy more!
Click Here to Order Now and Save on Shipping During the Wrecking Ball Tour2013: The Light in Darkness